Verity Knowledge Solutions: Bridging the Silence – A CSR Initiative for Ashray Akruti
In a world filled with hustle and bustle, it's easy to forget that there are many who face profound challenges and obstacles in their lives. Verity Knowledge Solutions, a company known for its commitment to Corporate Social Responsibility (CSR), recently organized a significant event that brought hope and joy to the lives of children in need. On March 24, 2021, the company held a Hearing Aid Distribution Program in collaboration with Ashray Akruti, aimed at transforming the lives of children with hearing impairments.
Ashray Akruti, a renowned non-profit organization, has been tirelessly working to improve the lives of hearing-impaired children. Verity Knowledge Solutions recognized the importance of supporting their mission and decided to take action. The Hearing Aid Distribution Program was an event that touched the hearts of everyone involved and left an indelible mark on the lives of these children.
The Power of Sound: Hearing Aid Distribution
The Hearing Aid Distribution Program was a day filled with hope and smiles as Verity Knowledge Solutions distributed hearing aids to children at Ashray Akruti. The event was meticulously planned and executed to ensure that every child in need received the appropriate hearing aid. It was a life-changing moment for these children, as they were given the gift of hearing, a sense that many of us take for granted.
A Glimpse into Verity Knowledge Solutions' CSR Commitment
Verity Knowledge Solutions has always prioritized making a positive impact on society. Their CSR initiatives are a testament to their dedication to the welfare of the community. This Hearing Aid Distribution Program was not just about providing hearing aids; it was a symbol of the company's commitment to creating a more inclusive and equitable society.
Changing Lives, One Hearing Aid at a Time
The distribution of hearing aids had a profound impact on the lives of the children at Ashray Akruti. For many of them, it was the first time they could hear the laughter of their friends, the chirping of birds, and the soothing voices of their loved ones. It's moments like these that remind us of the power of corporate responsibility and the positive change that businesses can bring to society.
A Heartwarming Experience
Verity Knowledge Solutions didn't just provide hearing aids; they also organized an event filled with fun activities, music, and interactive sessions to celebrate the newfound ability to hear. The joy and excitement on the faces of the children were priceless, and the company's employees who volunteered for the event found it to be an incredibly rewarding experience.
The Ripple Effect of Giving
Verity Knowledge Solutions' CSR initiatives, such as the Hearing Aid Distribution Program, extend beyond the immediate beneficiaries. They inspire others to take up the cause of supporting those in need. It's a reminder that even small actions can have a significant impact and that when businesses give back to the community, it creates a ripple effect of kindness and compassion.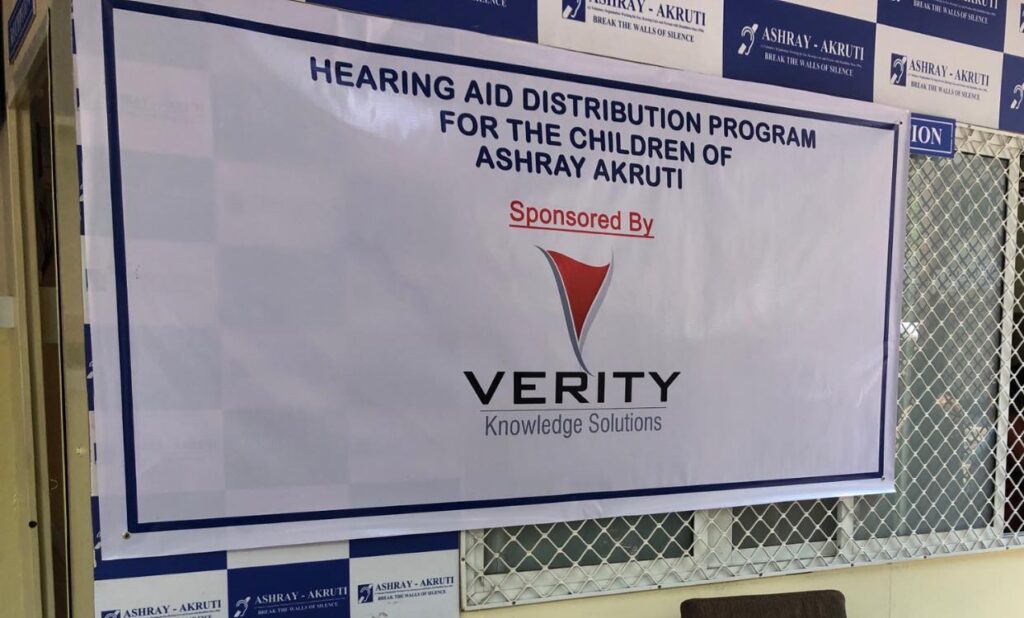 In Conclusion
Verity Knowledge Solutions' Hearing Aid Distribution Program for the children of Ashray Akruti is a heartwarming example of how corporate social responsibility can change lives and make the world a better place. The company's commitment to improving the lives of these children is a shining example of the positive impact businesses can have on society.
As we reflect on this inspiring initiative, let's remember that there is always an opportunity to make a difference in the lives of those less fortunate. Verity Knowledge Solutions' dedication to creating a more inclusive world reminds us that, together, we can bridge gaps, change lives, and create a better future for everyone.